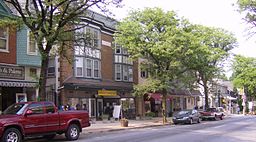 Since 1965, First State Contractors has been serving the Chester and Delaware Counties in Pennsylvania. Providing professional contracting services, First State Contractors will walk you through the step-by-step process from beginning to end. Exterior renovations include:
Roofing
As certified installers of IKO and GAF, First State Contractors guarantees that your roof will have the quality and admiration it deserves. A multi-layer roofing system was developed with the intention of adding value, a unique style, and long-lasting durability to your home.
Siding
The installation of energy-efficient siding is cost-effective. A wide variety of styles and color will give your home an unmatched beauty throughout the neighborhood.
Windows
Save energy by replacing your old windows with new vinyl windows. Simonton and Alside windows were created with excellent craftsmanship that will last a lifetime.
Doors
Doors by Therma-Tru, Home Guard, and Larson are made of the finest quality. These products were designed to keep you safe inside while creating an elegant look outside.
Decks & Additions
Decks, sunrooms, and porches can be added to your home. Environmentally safe wood is used to prevent termite and weather damage. Concrete and vinyl is also available to beautify your home.
Patios
Decorative concrete patios and walkways are a unique addition the front of your house.
Interiors
Interior spaces are accomplished with the expertise of full-trained contractors, who will provide everything you need.