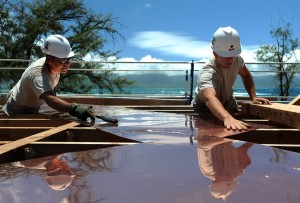 An outcome oriented planning process and a finite time frame creates a building of your dreams. It takes a set of experts well versed in the art of coordinating and directing human resources as well as material resources to make it all happen. Here at First State Contractors in Middletown, DE, we understand how the constraints of cost, time, scope, quality, and coordination of people all weave together to make a building.
Our process defines and justifies the project. We make a strategic plan considering the local building codes and regulatory laws. We have a list of outcomes to reach at each stage of the project. You will have a project manager who will know your needs personally for your business. The most important of which is a communication system that keeps all stakeholders informed of progress and changes in the project. Our project managers maximize resources with procurement of materials, equipment, and persons needed to do the job. These people are aware of the schedule, but put doing the job as it should be done first for the building they are creating. We promise to clearly state or clarify standards of the project, the schedule, the budget, and its scope and sequence. Unlike the concrete in the building none of that is in stone or concrete, but a consensus of a group of experts. The project plan can become tweaked and refined at any point in the process as the specific needs become clear.
At First State Contractors, we fully understand the most important part of the whole project is the people and the relationship they have with each other. Give us a call at 866-398-9103 and let us show you how it works.